Tips to Help You in The Interview
We are sure you must have done this already, but here are a few last-minute tips to help you polish up while you await your turn. Believe us, we are rooting for you and are eager to have you in our team as much as you do!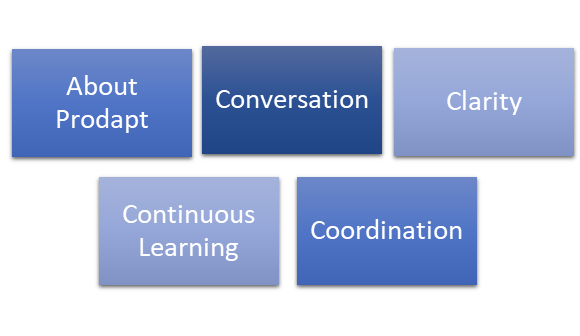 Before we get into the details of interview tips, take some time to know  Prodapt, our business, our values, and our people through our  Linkedin Page.
Conversation  
An interview is an open conversation with a purpose between the candidates and the interviewers. Essentially, the purpose of the interview is to check if the expectations from both sides match! (ah sure, that reminds us of dating too). So, breathe in, and let your natural self talk. Be sure of what motivates you about the role and tell us why! And remember, the more you talk, the less we do
Correctness of Information
Now that you have read the job description, it's time to demonstrate your experience with examples in relevant areas without breaching confidentiality and help us see why you are a great fit. We understand that interviews can get overwhelming for many but make sure that the information shared by you is correct and accurate. We have a stringent Background Verification (BGV) process, and we would be sorry to lose you over some confusion born out of overenthusiasm.
From our experience, the  STAR  technique to effectively convey your point should include the below:
1. Situation: Set the context at a high level, then describe the necessary detail.
2. Task: Describe the task at hand and your unique responsibility in the given situation.
3. Action: Explain the steps taken by you took to address it
4. Result: Share the outcomes of your actions.
5. Be prepared with short descriptions of various situations related to the Job Role and be ready to answer follow up questions with relevant explanations. Focus on examples that also highlight your unique skills.
6. Be specific, straightforward and avoid generalizations
Clarity
If in doubt, ask for it. If you have any questions about the organization or the job itself, do not hesitate to ask us. Get your doubts clarified and seek information wherever you find gaps.
Here are some common questions people ask us: 
What is the vision of the organization?
How is the business structured in Prodapt?
Do I have the option to move roles within the organization?
Continuous Learning:  
The Institute For The Future published a - report  that 85% of the jobs that will exist in 2030 have not been invented yet. While the numbers can be argued, most of the current roles will indeed evolve and hence there is no escape from skilling up. Show us your openness to learn and be open to seeing your job mature and evolve with the years.
Coordination in Advance:
We all know Murphy's Law. We all have lived through Murphy's Law at some point. And most of us will agree that everything that can go wrong will go wrong on the day of the interview. Please take care of the following to ensure a smooth interview:
Face 2 face interviews:
Make the necessary travel arrangements.
Plan your route. And an alternate backup route.
Leave early.
Online video interviews: 
Find out upfront which tool will be used for the interview e.g. Zoom, Teams, Skype, Webex etc. We recommend keeping the tool ready (installed and logged in) on at least 2 of your devices.
Do an advance check to check that the audio and microphone are working, and the network supports the needed bandwidth.
Currently, we are conducting online interviews using MS Teams. 
Write down the contact information of your interviewer. If you will be delayed due to unforeseen circumstances, give them a call, and let them know.
We hope to meet you soon!